LEARN TO LIFT. LOVE TO LIFT.
STRENGTH TRAINING FOR EVERYONE
Free to all members of our NRG TRIBE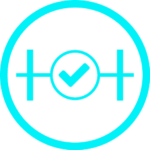 Guided every rep of the way
Learn to Lift is the new, NRG exclusive, small group introductory weight training programme designed to build your technique, skills and confidence in mastering the core lifts that are proven to make you stronger and support your overall health and fitness goals.
Guided every rep of the way by our NRG trainers, completing the programme will enable you to build your experience and confidence with the correct technique, ready to take your strength training to the next level!
The classes are free to all
members of our NRG Tribe
Learn to Lift is for any member with no / limited experience of weightlifting
Each class lasts approx. 45 mins
Learn to master the squat, deadlift, overhead press and bench press across four weeks
There are 2 classes a week to complete to become a Learn to Lift graduate!
Logbooks will be provided to track your progress
Guided every rep of the way
'Love to Lift' is our newly designed class for members that want to build on their existing skills and expertise and learn the full range of weightlifting techniques including the more dynamic Olympic lifts.
Our Level 2 programme reviews your existing technique on the core compound lifts (deadlift, the squat and press) before teaching the fundamentals of lifts including Split Squats, RDL's, Incline Bench Press, Bent Over Row and Sumo Deadlifts.
The classes are free to all
members of our NRG Tribe
Love to Lift is for any members that are experienced and confident in their basic lifting techniques and / or have completed the NRG 'Learn to Lift' Level 1
Each class lasts approx. 45 mins

There are 2 classes a week for four weeks to complete to become a Love to Lift graduate!

Logbooks will be provided to track your progress